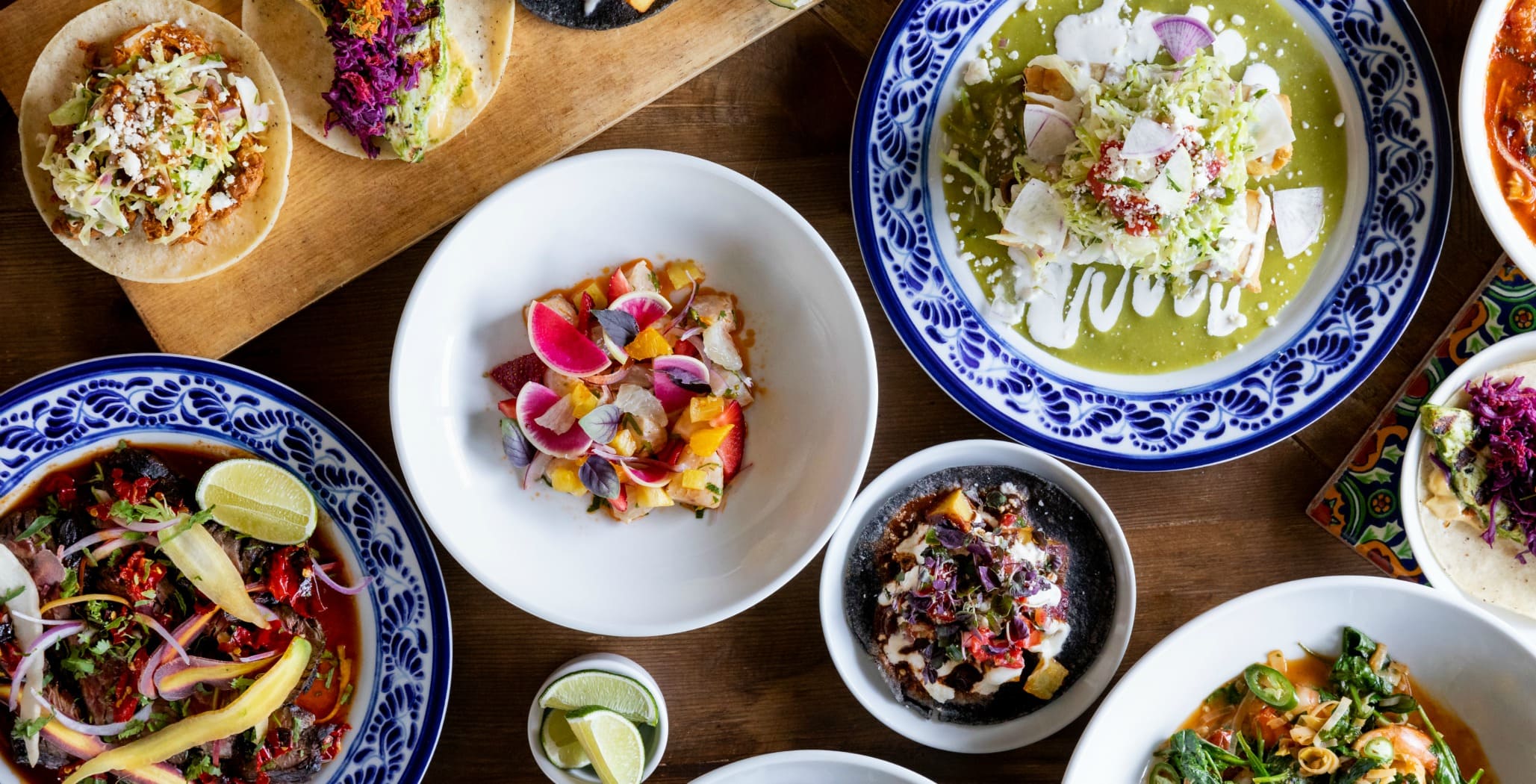 Snacks
guacamole, salsa & chips

lime, cilantro, red onion

12

chicharrones

fried to order, tallula's hot sauce, chile salt

6

spicy pickled vegetables

jalapenos, carrots, onions, epazote cucumbers

7

market radishes

crema, lime, green chile salt

7

squash blossom quesadilla

pepper jack and oaxaca cheese, roasted shishito peppers, flour tortilla

14

nachos "sencillo"

salsa roja, spicy giardiniera, crema, lots of cheese

10/16

...add organic chicken, grass-fed beef

5/8
Small Plates
weiser melon

jicama, tamarind, housemade tajin salt

14

garden of lettuces

cucumbers, plums, oregano-lime vinaigrette

15

little gem caesar

anchovy, garlic, lemon, pumpkin seeds, parmesan

15

...add cilantro-lime poached shrimp

7

tomatoes

cucumbers, pasilla chile vinaigrette, queso fresco

14

potato flautas

tomatillo salsa, cabbage, radish, queso fresco, crema

16

arroz verde

toasted green rice, farmers market vegetables, herbs, red chile aioli

17

...add organic sunny egg

3

ceviche

kampachi, shrimp, strawberry, fresno, pasilla, jalapeno, cilantro, red onion, watermelon radish, avocado crema

18

lengua mulita

blue corn tortilla, 3 cheeses, 5 pepper pico de gallo, avocado-horseradish crema

16

posole rojo

beef tripe, pork trotters, masienda hominy, chile broth, cilantro, lime, oregano

14
Tacos
two per order

black cod tacos

napa cabbage, epazote, malt tartar sauce, dill pickled onion, masa crisps

18

organic chicken verde tacos

stone fruit chutney, slaw

16

slow braised beef barbacoa tacos

charred peppers, queso fresco, cilantro

16

vegetarian tacos

fried yam, ayocote beans, charred salsa, crema

14

taco del dia

created by our cooks

18
Large Plates
grilled caledonian blue prawns

creamy polenta, chile negro sofrito, herb salad

32

organic roasted chicken

sweet jade tomatoes, peewee potatoes, sunchokes, peach-almond mole, salsa de semilla

33

pork carnitas

kandarian farms ayocote negro beans, cabbage, rice, avocado, house salsa, crema, tortillas

26

grilled carne asada

grass-fed hanger, shaved red onions, roasted shishito peppers, chipotle tamarind sauce, tortillas

33

flannery dry aged beef fajitas

ny strip, peppers, garlic, white onions, handmade tortillas

48
Sides
organic pinto beans

7

organic rice

7

half beans, half rice

7

fresh handmade corn tortillas

3
Cocktails
Tallula's Margarita

Tapatio Blanco Tequila, Fresh Lime, Leopold Orange Liqueur, Agave
12 / pitcher 45

Medicina del Abuelo

Yuu Baal Mezcal, Fresh Ginger, Fresh Lemon, Honey, Firewater Bitters
13

Melo-Colada

Ron Caribe Yucatan Rum, Fresh Pineapple, Organic Coconut Milk, Market Melon

15

Spicy Melon Margarita

Blanco Tequila, Housemade Melon Syrup, Agave, Fresh Lime, Firewater Bitters, Jalapeno 14

Westsider

Reposado Tequila, Elderflower Liqueur, Fresh Lime, Fresh Mint, Fresh Cucumber, Jalapeno
14

Strawberry Margarita

Blanco Tequila, Housemade Strawberry Syrup, Agave, Fresh Lime
14

Mezcal Manhattan on Draft

Yuu Baal Mezcal, Carpano Antica Vermouth, Angostura Bitters, Maraschino Cherry
14

Paloma

Tapatio Blanco Tequila, Aperol, Housemade Grapefruit Syrup, Steigl Grapefruit Raddler, Peychauds Bitters
13

The Uplifter

Angelisco Resposado Tequila, Housemade
Cinnamon Syrup, Orange Bitters, Orange Peel
15
Draft Beer
Craftsman 'Heavenly Hefe'
8
Modern Times Orderville IPA
8
21st Amendment 'El Sully' Cerveza
7
Steigl Grapefruit Raddler
8
Bottle Beer
Victoria Cerveza
6

Hitachino White Ale
12

Madewest "The Standard" Pilsner
7

Golden State 'Mighty Dry' Cider
10

Erdinger Non-Alcoholic
7
Aguas Frescas 5
Hibiscus
Hibiscus Tea, Lime, Spices

Horchata
Jasmine Rice, Almonds, Cinnamon
Agua Fresca Del Dia
Beber Refrescos
Mexican Coke, Diet Coke, Sprite, Orange Fanta
Fever Tree Ginger Beer, Iced Tea
4
Mountain Valley Sparkling or Still
6
Sparkling & White
Naveran

Cava Brut Nature, Penedes 2015

14/55

Raventos i Blanc, de Nit, Brut Rose

Conca del Riu Anoia, Spain 2014

17/65

Cortijo, Viura

Rioja, Spain 2015

15/55

Beckman, Estate Sauvignon Blanc

Santa Ynez Valley, California 2016

13/50

La Marea, Kristy Vineyard, Albarino

Monterey, California 2017

15/55

Wenzlau, Drawing Board

Santa Rita Hills, California 2013

19/75

Larmandier-Bernier, Terre de Vertus

Brut Nature 1er Cru, Champagne, France 2009

140

Mercat, Cava Brut Nature

Penedes, Spain NV

55

Enriq Soler, Improvisacio, Xarel-lo

Penedes, Spain 2014

80

Andrea Felici, Verdicchio dei Castelli di Jesi

Marche, Italy 2015

50

Almaroja, Pirita Blanco

Arribes, Spain 2015

50

Cambiata, Albarino

Monterey, California 2015

55

Domaine Garenne, Sancerre

Loire, France 2016

75

Lauer Riesling Sirn-Fass 15 Riesling

Saar, Germany 2015

100
Rosé & Red
Armas de Guerra, Rose Mencia

Bierzo, Spain 2017

13/50

Paco & Lola, Red Experience

Navarra, Spain 2014

14/55

La Sagrada, A Portela, Mencia

Valdeorras, Galacia, Spain 2014

16/60

A Tribute to Grace, Grenache

Santa Barbara County, California 2015

17/65

La Carrodilla, Canto de Luna

Baja, Mexico 2015

15/55

Poe, Rose

Sonoma County, California 2016

60

Ameztoi, Rubentis Rose

Getariako Txakolina, Spain 2016

60

Bonnerland, Pinot Noir

Monterey, California 2013

80

Stolpman, La Cuadrilla

Ballard Canyon, California 2014

65

Vara y Pulgar, Tintilla

Vino de la Tierra de Cadiz, Spain 2013

69

Montepoloso, Eneo

Tuscany, Italy 2013

110

Rhys, Pinot Noir

Santa Cruz Mountains, California 2013

115

Trosset de Porret, Vi de Villa

Priorat, Spain 2011

140

Salicutti, Brunello de Montalcino

Tuscany, Italy 2004

180
Desserts
churros

mexican dipping chocolate

11

tres leche cake

honey, chamomile, fresh berries

11

vanilla rum flan

brown turkey figs

9

rice pudding

nectarine, almond

9

passion fruit sorbet

6
Drinks
caffe luxxe - locally roasted coffee

organic dairy

4

art of tea

selection of organic teas

4
Kids Menu
organic chicken & rice soup

7

cheese quesadilla

6

...add organic chicken or beef

2

soft taco with rice and chips

organic chicken, beef or veggie

8

half rice, half beans

7
Kids Beverages
kids lemonade

3

kids agua fresca del dia

3
Happy Hour Food
spicy pickled vegetables

jalapenos, carrots, onions & epazote cucumbers

5

guacamole, salsa & chips

cilantro, lime, red onion & jalapeno

8

nachos "sencillo"

salsa roja, giardiniera, fresh herbs & lots of cheese

8

ceviche

kampachi, shrimp, strawberry, fresno, pasilla, jalapeno, cilantro, red onion, watermelon radish, avocado crema

12

organic chicken verde taco

stone fruit chutney, slaw

5

slow braised beef barbacoa taco

charred peppers, queso fresco, cilantro

5

vegetarian taco

weiser farms summer squash, pico de gallo, cilantro avocado crema

5
Happy Hour Drinks
Tallula's Margarita

regular, spicy or mezcal

9 glass /34 pitcher

Paloma

8

Cerveza Negra Modelo

4

Insergentes 'La Lupulosa' IPA

6

Mercat

Cava Brut Nature, Penedes, Spain NV

10

Azul y Garanza

Viura, Navarra, Spain 2016

9

Stolpman, Para Maria Rose

Santa Barbara County, California 2016

8

Azul y Garanza

Tempranillo, Navarra, Spain 2016

9

Hibiscus Agua Frescas

3
Happy Hour is Monday through Friday 4-6pm in the bar, lounge and patio only.
–
A 3% charge is added by the restaurant to all checks to help offer fully covered health care to all employees.
Please let us know if you have any questions.
Thank you for supporting a healthier staff!