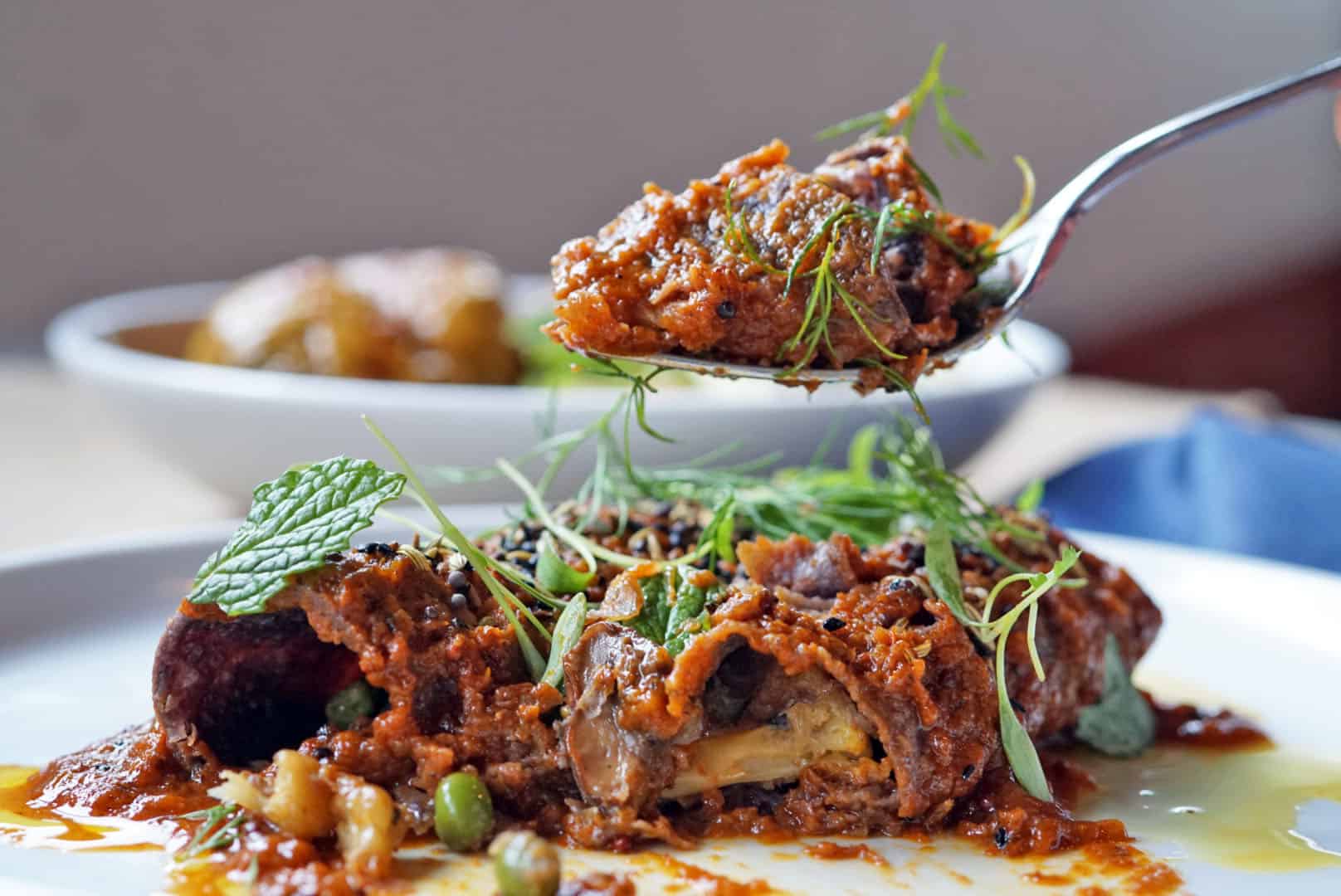 Snacks
guacamole, salsa & chips (v)

lime, cilantro, red onion, jalapeno

13

...add raw vegetables with garlic chili paste and tamarind yogurt

4

spicy pickled vegetables (vegan, gf)

7

market radishes (v)

crema, lime, green chile salt

7

crispy "burmese" tofu (vegan, gf)

chickpea fritters with spicy tamarind sauce

10

nachos "sencillo" (v)

salsa roja, spicy giardiniera, crema, lots of cheese

10/16

...add grass-fed curried beef

6

...add organic chicken

5

...add vegan mushroom chorizo

4
Cold Dishes
baja kampachi ceviche

strawberry hibiscus aguachile, red onion, jalapeno

18

farmers market lettuces (v, gf)

cucumber, radish, corn tortilla chips, oregano-lime vinaigrette

8

the tallula's caesar (av)

anchovy, garlic, lemon, pumpkin seed, parmesan

15

burmese chicken salad (gf)

napa cabbage, peanuts, shallots, mint, cilantro, tamarind

16
Hot Dishes
crispy rice (v, vq)

crispy rice, farmers market vegetables, escabeche, serrano aioli

17

grilled pumpkin (vq, gf)

broccolini, cauliflower, yogurt curry, red onion, fresh herbs, cardamom

16

vegetable masala enchiladas (v)

blue corn tortillas, green garlic, spiced tomato sauce

15

menudo (gf)

rustic stew of beef tripe, pigs feet, fresh hominy, cabbage, red chili broth

14

grass-fed beef-pork meatballs (gf)

rice noodles, ginger, black mustard, coconut-curry sauce

19
Tacos
two per order

red chili shrimp

serrano aioli, pickled red onion, fresh slaw, micro cilantro

18

organic chicken verde

poblano chile, pickled jalapeno, cabbage, queso fresco

16

grass-fed curried beef

potato, white onions, cilantro, golden raisins, serrano chilis

18

potato masala (vq)

mint-tomatillo chutney, peas, fried shallots, pea tendrils

15
Platters
tandoori chicken fajitas (gf)

peppers, onions, broccolini, corn tortillas

35

spicy blue prawn masala (gf)

kashmiri, ginger, garlic, bloomdale spinach, coconut cardamom rice

36

carne asada : 8oz grass-fed hanger steak

chipotle-tamarind sauce, shishitos, red onion, sumac, pea tendrils, corn tortillas

36

baked whole sea bass (gf)

citrus salad, yucatan chili rub, corn tortillas

49

tallula's bowl (v, vq, gf)

half an avocado, kandarian farms ayocote beans, cabbage, rice, crema, and choice of pork carnitas, chicken verde, chili shrimp, or seasonal veggies

24

...sub 8oz hanger steak

12

...add handmade corn tortillas

4
Sides
organic red rice (vegan, gf)

6

organic saffron rice (vegan, gf)

7

organic pinto beans (vegan ,gf)

6

half beans, half rice (vegan, gf)

7

fresh handmade corn tortillas (v, gf)

4
Dietary Restriction Guide
v = vegetarian

av = available vegetarian

vq = available vegan

gf = gluten-free
Snacks
guacamole, chips & salsa  (v)

 13

nachos "sencillo" (v)

salsa roja, spicy giardiniera, crema, lots of cheese

10/16

…add grass-fed curried beef or organic chicken

5/8

make it breakfast style and add organic sunny egg

3
Large Plates
chilaquiles(v,av) 

mole rojo, black beans, cilantro, red onion, cheese, pico de gallo,fried egg

16

wet breakfast burrito

verde pork, eggs, potatoes, crema, pepper jack

18

we politely decline modifications

magdalena's blue corn pancake

corn cake, fresh fruit, piloncillo syrup, macadamia nuts, cardamom whipped cream

16

mexican rice bowl

pinto beans, cabbage, half avocado, pico de gallo, sunny egg

16

eggs benedict on sope 

poached eggs, applewood hill bacon, black beans, lettuce, chipotle hollandaise 

16

classic huevos rancheros 

sunny eggs, refried black beans, queso fresco, radishes, ranchero salsa 

14

little gem caesar 

anchovy, garlic, lemon, pumpkin seed, parmesan

15
Dietary Restriction Guide
v = vegetarian

av = available vegetarian

vq = available vegan

gf = gluten-free
tacos
organic masa cooked & milled daily

(2 per order)

potato masala (vq)

mint-tomatillo chutney, peas, fried shallots, pea tendrils

15

organic chicken verde

poblano chile, pickled jalapeno, cabbage, queso fresco

16

grass-fed curried beef

potato, white onion, cilantro, golden raisins, serrano chilis

18
sides
organic pinto beans salsa verde (v) • 7

half rice, half beans (v) • 7

spicy pickled vegetables (v) • 7

fresh handmade corn tortillas (v) • 4 for 4

avocado 3 / sour cream 1 / cheese 1
kids
organic chicken & noodle soup • 7

cheese quesadillas • 6
…add organic chicken or curried beef 2

soft taco with rice & chips • 8
organic chicken, curried beef or veggie

ice cream sundae • 5
desserts
tres leches cake (v) honey, chamomile, fresh fruit • 11
Lunch & Brunch Beverage Specials
carafe of grapefruit

mezcal margaritas 

 34

del maguey vida mezcal, fresh lime, fresh pineapple,

grapefruit syrup, leopold

orange liqueur, agave

michelada 

8

el sully beer, ancho reyes chile herbal spice, homemade roja or verde salsa, fresh lime

bloody maria

14

blanco tequila, homemade bloody maria mix, fresh lime, pickled veggies

tallula's mimosa

 13

choice of fresh orange juice or grapefruit, cava
Cocktails
Tallula's Margarita

Tapatio Blanco Tequila, Fresh Lime, Leopold Orange Liqueur, Agave
12 / carafe 45

Masala Margarita

Blanco Tequila, Housemade Garam Masala, Fresh Lime, Ginger Beer, Cardamom Sugar Rim
15

Blood Orange Margarita

Blanco Tequila, Fresh Lime, Housemade Blood Orange Syrup
15

It's Tamarind Time

Reposado Tequila, Tamarind & Aji Amarillo Puree, Fresh Lemon, Agave, Elderflower Liqueur
14

Medicina del Abuelo

Amaras Verde Mezcal, Fresh Ginger, Fresh Lemon, Honey, Firewater Bitters
13

Rustic Aloha

Amass Gin, Tart Hibiscus, Fresh Lemon

15

Westsider

Reposado Tequila, Elderflower Liqueur, Fresh Lime, Fresh Mint, Fresh Cucumber, Jalapeno
14

Mexican Mai Tai

Ron Caribe Rum, Kalani Coconut Rum, Fresh Lime, Pineapple, Aperol
16

Mezcal Manhattan On Draft

Yuu Baal Mezcal, Carpano Antica Vermouth, Angostura Bitters, Maraschino Cherry
14

Paloma

Tapatio Blanco Tequila, Aperol, Housemade Grapefruit Syrup, Steigl Grapefruit Raddler, Peychauds Bitters
13
Sparkling & White Wine
Naveran, Estate, Cava Brut Nature Alt Penedes, Spain NV

15/55

Raventos i Blanc, De Nit, Brut Rose Conca del Riu Anoia, Spain 2014

17/65

Larmandier-Bernier, Terre de Vertus, Brut Nature 1er Cru Champagne, France 2009

140

Oro de Castilla, Verdejo Rueda, Spain 2017

14/50

Collier Creek Pinot Grigio Lodi, California 2018

15/55

The Ojai Vineyard, Dry Riesling Kick On Ranch, Santa Barbara, California 2016

15/55

Hendry, Albarino Napa, California 2018

16/60

Wenzlau, Drawing Board, Chardonnay Santa Rita Hills, California 2014

19/75

Enric Soler, Improvisacio, Xarel-lo Penedes, Spain 2014

80

Almaroja, Pirita Blanco Arribes, Spain 2015

50

Matthiasson, White Blend Napa Valley, California 2014

90

Lauer Riesling Sirn-Fass 15 Riesling Saar, Germany 2015

100
Draft Beer
21st Amendment 'El Sully'
7
Modelo 'Negra' Cerveza
7
Craftsman 'Heavenly Hefe'
8
Steigl Grapefruit Raddler
8
Modern Times Orderville IPA
8
Bottled Beer
Victoria Amber Lager
6

Ommegang Brewery Rose Cider
7

Modelo 'Especial' Pale Lager
7

Hitachino White Ale
12

Erdinger Non-Alcoholic
7
Aguas Frescas 5
Hibiscus
Hibiscus Tea, Lime, Spices

Horchata
Jasmine Rice, Almonds, Cinnamon

Agua Fresca Del Dia
Beber Refrescos
Mexican Coke, Diet Coke, Sprite, Jarritos (seasonal), Iced Tea
4
Mountain Valley Sparkling or Still
6
Rosé & Red Wine
Armas de Guerra, Rosado Mencia

Bierzo, Spain 2017

13/50

Poe, Rosé

Sonoma County, California 2016

60

Ameztoi, Rubentis Rosé

Getariako Txakolina, Spain

60

Honoro Vera, Monastrell

Jumilla, Spain 2018

11/45

Aplanta, Aragonez & Alicante Bouschet

Alentejano, Portugal 2017

13/50

A Tribute to Grace, Grenache

Santa Barbara County, California 2015

17/65

La Carrodilla, Canto de Luna

Baja, Mexico 2017

16/60

Bonnerland, Pinot Noir

Monterey, California 2013

80

Vara y Pulgar, Tintilla

Vino de la Tierra de Cadiz, Spain 2013

69

Luis Seabra Vinhos, Xisto Ilimitado

Douro, Portugal 2016

75

Montepoloso, Eneo

Tuscany, Italy 2013

110

Rhys, Pinot Noir

Santa Cruz Mountains, California 2013

115

Trosset de Porret, Vi de Villa

Priorat, Spain 2011

140
Desserts
churros

mexican dipping chocolate

8

tres leche cake

honey, chamomile, market berries

11

vanilla coconut sorbet (vq, gf)

served with candied coconut, strawberry

7
Drinks
caffe luxxe - locally roasted coffee

organic dairy

4

art of tea

selection of organic teas

4
Kids Menu
organic chicken & noodle soup (gf)

7

cheese quesadilla (v)

6

...add organic chicken or curried beef

2

soft taco with rice and chips (av)

organic chicken, curried beef or veggie

8

half rice, half beans (v)

7
Kids Beverages
kids lemonade

3

kids agua fresca del dia

3
Happy Hour Food
spicy pickled vegetables (v)

jalapenos, carrots, onions & epazote cucumbers

5

guacamole, salsa & chips (v)

cilantro, lime, red onion & jalapeno

8

nachos "sencillo" (v)

salsa roja, giardiniera, fresh herbs & lots of cheese

8

baja kampachi ceviche

strawberry hibiscus aguachile, red onion, jalapeno

12

organic chicken verde taco

poblano chile, pickled jalapeno, cabbage, queso fresco

6

grass-fed curried beef taco

potato, white onion, cilantro, golden raisins, serrano chilis

6

potato masala taco (vq)

mint-tomatillo chutney, peas, fried shallots, pea tendrils

6

fried chicken wings

yucatan chili, spices crush, crema, lime

(available Mondays only) 5
Happy Hour Drinks
Tallula's Margarita

regular, spicy or mezcal

9 glass /34 pitcher

Paloma

8

Cerveza Negra Modelo

4

Cerveza Victoria

6

Naveran

Cava Brut Nature, Penedes, Spain 2015

10

Azul y Garanza

Viura, Navarra, Spain 2016

9

Rosado

Armas de Guerra, Bierzo, Spain 2017

9

Azul y Garanza

Tempranillo, Navarra, Spain 2016

9

Hibiscus Agua Frescas

3

Special Cocktail of the Day

(available Mondays only) 8
Happy Hour is all-night long on Mondays and from 4-6pm Tuesday-Friday in the bar, lounge and patio only.
–
A 3% charge is added by the restaurant to all checks to help offer fully covered health care to all employees.
Please let us know if you have any questions.
Thank you for supporting a healthier staff!